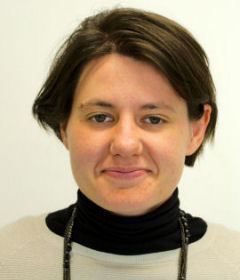 Researcher
Scientific Area: Physical Chemistry
Dipartimento di Chimica e Chimica Industriale
Via Moruzzi 13, 56124 PISA
Office Phone: +39 050 2219 268
Lab. Phone:
E-Mail: Questo indirizzo email è protetto dagli spambots. È necessario abilitare JavaScript per vederlo.

Group Web Page: https://thermolab.dcci.unipi.it/
UniMap: https://unimap.unipi.it/cercapersone/dettaglio.php?ri=182060
ORCID: https://orcid.org/0000-0001-5824-4372
Chiara Pelosi received her PhD in Chemistry and Material Science in 2021 from the University of Pisa, under the co-supervision of Professor Maria Rosaria Tinè (University of Pisa, Italy) and Professor Frederik Wurm (University of Twente, the Netherland). She spent 2 years as a postdoctoral fellow, working for the project: "Materiali di nuova generazione per il restauro di beni culturali: nuovo approccio alla fruizione di AGM for CuHe: Advanced Green Materials for Cultural Heritage." She is currently enrolled as a young researcher (RTD-A) researcher at the Department of Chemistry and Industrial Chemistry of the University of Pisa.
Her research deals with the physical-chemical charactherization of materials in solution and in the solid-state, with a focus on thermal analysis, calorimetry and rheology. In particular, she deals with the application of these techniques on the following matrices:
• Deep Eutectic Solvents;
• Protein-polymer conjugates with biomedical applications;
•New generation materials for cultural heritages;
• Composite materials made by synthetic or natural polymers and animal extracted fibers.
In 2021, she won the "Alberto Lucci" prize of Italian Association of Calorimetry and Thermal Analysis (AICAT) and the II edition INSTM/Polymer Award Ex-equo special prize for the video quality and the communication skills. She is (co)author of more than 15 peer-reviewed scientific papers.