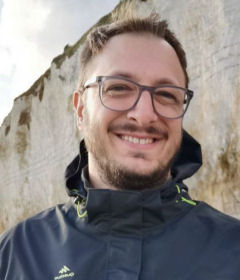 Researcher
Scientific Area: Analytical Chemistry

Dipartimento di Chimica e Chimica Industriale
Via Moruzzi 13, 56124 PISA
Office Phone: +39 050 2219 309
Lab. Phone:
E-Mail: Questo indirizzo email è protetto dagli spambots. È necessario abilitare JavaScript per vederlo.
Group Web Page: https://scibec.dcci.unipi.it/
Link to publication: https://arpi.unipi.it/cris/rp/rp01755
UniMap: https://unimap.unipi.it/cercapersone/dettaglio.php?ri=109840
E-Learning:
ORCID:
Jacopo La Nasa received his PhD in analytical chemistry at the University of Pisa in 2015 with a thesis on the development of new methods based on pyrolysis, chromatography, and mass spectrometry for the characterization and ageing studies of modern materials in artworks. He is currently a researcher at the University of Pisa in the SCIBEC research group. His research mainly focuses on the development of new analytical tools based on mass spectrometry for the study of natural and synthetic organic materials in heritage objects and in environmental samples.